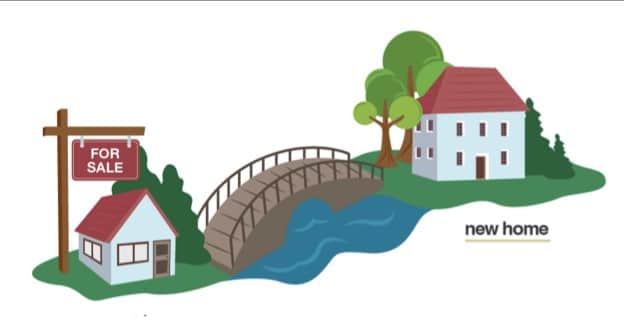 A bridge loan is a temporary loan that allows homeowners to make their down payment on the next property while they wait for their pending sale to close. This type of loan is meant to be temporary, ranging from a few days to a few months.  To qualify for a bridge loan, you must have a firm sale on your existing home and the bridge will be set up for the down payment on the new purchase.  Once the sale of your home proceeds is available then the bridge loan is paid out.  The payment of the loan is all completed through your lawyer who preforms the closing of the sale and purchase.
Bridge financing comes with a cost and is usually priced higher than typical mortgage rates. Some lenders charge an admin fee, and sometimes legal fees may apply.
If you think you may require a bridge loan, it is important that we talk early in the mortgage financing process. Most lenders, including all the Big Six banks, offer bridge loans, not all lenders do.
PROS:
bridge loans are generally easier to qualify for compared to standard mortgages, because the lender knows that the money to repay will be available when the sale of your home closes
It can open additional purchase options, as you won't be as limited by tight closing deadlines
As a short-term loan, it is typically a cost-effective option
CONS:
It is a financial obligation, and if the sale of your home falls through, the whole deal can fall through, bringing on financial risk to the homeowner.
Cost example for a bridge of $15,000 at 5 days:
$375.00  2-3% administrative fee (we used 2.5% as an average)
$205.00  This is figured on Prime 5.70% plus 2-3% (we used 2.5% as an average)
Lawyers cost to process vary depending on the firm