It feels like we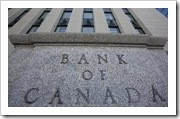 've been in this 'rate-hike' for a while. It's actually only been a few months since the first increase started on March 2, when the benchmark rate sat at 0.25%. Since March, the central bank has raised its benchmark rate a full 3.0%. After today, lender prime rates will (likely) rise to 5.45% from 4.70%.
Will the BoC hold now?
Possibly. Maybe. 🤞 Inflation is still high, but down from its June 2022 peak. Some prices, like for gas, have eased. House prices are cooling in the larger markets, like Toronto and Vancouver. Home sales are tempering with less robust demand — tapping the brakes on the market insanity that brought intense bidding wars and no-conditions offers.
Your variable rate mortgage payments are about to increase again
With your Adjustable-Rate Mortgage (ARM), your floating payments will float higher in your next full payment cycle.
For example, on a $500,000 mortgage, if you have our current lowest variable rate of 3.50% your rate will now be 4.25%, which means an extra $200 per month to soak up.
Are variable rates still popular?
Despite the BoC's recent rate hikes, our clients are still interested in a variable rate over a fixed rate.
This is partially attributed the continued popularity to home buyers wanting to use a lower variable rate vs fixed rate to qualify for more 'home' with the government stress test requirement. This test means that to be approved by a lender, you have to be able to afford the payments at 2.0% more than your actual rate (if your rate is lower, you can qualify using a lower stress-test rate).
Are fixed rates going up, too?
Bond yields hit a peak in mid-June after the BoC's 1.0% hike on June 1. Fixed rates are influenced by government 5-year bond yields, which can rise and fall in anticipation of central bank rate decisions and other economic pressures.
Since that peak, bond yields and fixed rates have eased a little. After today, fixed rates may go up again slightly, but for the most part, they have already priced in today's rate resting point.
That can change if central bank sentiment doesn't ease up on inflation warnings and looks to hike its rate again.
How does this change your payments??
For every $100,000 in mortgage money borrowed your payment will now increase by $43 a month based on this .75% increase.
If you would like to review your mortgage and look come up with a plan give me a call at 403.875.2969 or email patricia@patriciamckean.ca